The Extravagant Generosity of God.
The Extravagant Generosity of God.
A sermon preached on 26th October, 2014, as part of our Living in the Kingdom of God. series.
John 6:1-14

Readings are Exodus 16:1-18 (from "The Manna and the Quails") and John 6:1-14 ("Jesus Feeds a Great Crowd"), with references to John 2:1-12 and 21:1-14, Ephesians 2:10 and 3:20-21, and Matt 25:31-46. Dr Joshua Searle is a tutor at Spurgeon's College (www.spurgeons.ac.uk), and the talk begins with an interview with him (9 mins) by Matt Rowe of CBC, one of his students.
Joshua Searle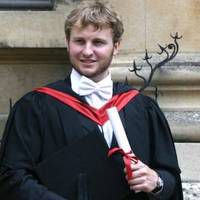 Joshua grew up in the Cheviot Hills of Northumberland and went on to study History at Oxford University and Theology at the International Baptist Theological Seminary (IBTS) in Prague. In 2012 he was awarded a PhD from Trinity College Dublin for a thesis on the interpretation of apocalyptic texts among evangelical communities in Northern Ireland during the 'Troubles'.
Throughout his doctoral studies, Joshua taught at universities and seminaries in the Czech Republic, Germany, Ireland, Ukraine and Russia.Upon completing his studies, Joshua worked as a volunteer missionary and teacher at Donetsk Christian University, Ukraine, where he served for a year as Dean for Global Relations.Just before coming to Spurgeon's Joshua was engaged in research at Baylor University, Texas, following the award of a post-doctoral fellowship from the Keston Institute.
Joshua is passionate about developing creative and culturally sensitive ways of communicating the Good News of Jesus Christ into the public sphere. The overriding aim of his teaching is to enable, encourage and empower future church leaders with the theological resources to witness to their faith in ways that are credible, compelling, culturally relevant and consistent with the compassion-focused ministry and mission of Jesus. Joshua is a frequent speaker at academic conferences in a variety of settings and he considers it a great privilege and blessing to haveministered and taught in a wide variety of missional contexts.
His own ministry has been profoundly influenced by the Northumbria Community, of which he is a Companion, and by the monastic way of life expressed in the Community's Rule of Availability and Vulnerability. As a son of Northumbria, Joshua takes as his model for mission and ministry the Northumbrian saint, Aidan of Lindisfarne, about whom it was said by his contemporaries that he "loved God and lived generously".
Joshua has a wide range of academic interests, including contextual missiology, baptistic and ecumenical theology, new monasticism, Germanic and Slavic languages, critical theory and the relationship between literature and theology.Joshua is a leader of the German academic organisation for young theologians, Arbeitsgemeinschaft Ökumenische Forschung. He has translated several documentary and historical films from German to English for the German consulting agency, TYP-Akademie, Limburg.
His book, Beyond the End: The Future of Millennial Studies (co-edited with Professor K.G.C. Newport), was recently published by Sheffield Phoenix Press. He has published his research (in Russian, Czech and English) in various theological journals. Joshua's blog can be found at: apassionforthepossible.wordpress.com
Joshua is married to Varduyi, who is originally from Armenia but grew up in Eastern Ukraine.They met at IBTS while studying theology together.In their free time Joshua and Varduyi enjoy spending time with their family and friends, reading, travelling, hill walking, and learning foreign languages. When not immersed in books, Joshua enjoys playing tennis, football and swimming and, as a loyal and long-suffering Middlesbrough football supporter, has come to appreciate the notion of purgatory!
http://www.spurgeons.ac.uk/staff/13/joshua-searle
Living in the Kingdom of God.