Basic Christianity 1 -- "In the Beginning... God".
Basic Christianity 1 -- "In the Beginning... God".
A sermon preached on 9th September, 2018, as part of our Basic Christianity. series.
Isaiah 40:18-31

Listen online Watch online Read a transcript
In this extended sermon, Phil introduces his series on Basic Christianity for autumn 2018. Reading (about half-way through) is Isaiah 40:18-31 (NIV), with various references. (The service was followed by Communion.)
Phil Marsden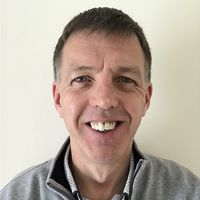 Phil received his call to full-time ministry as a child and since the age of 19 has served with Youth For Christ, the Baptist Missionary Society and several large churches before taking up his present role as Ministry Team Leader at Central Baptist Church. Phil's a visionary leader with a heart to share the good news of Jesus and to see the church grow.
IN THE BEGINNING…GOD
Play a game of 'Who am I?'…then think of three questions for 'Who is God?
Commonly held views:
Atheism - God doesn't exist (The fool says in his heart 'there is no God' Ps14 & 53)
Deism – God created the universe, but isn't actively involved in sustaining it now
Dualism – God and Satan are two completely equal, but opposing forces in battle
Pantheism – God is everything and everything is God!
Polytheism – God is just one of many gods
Star-wars ism! – God's an impersonal, powerful force (lightening/can't be known)
Dictionary: Supernatural & immortal being; deity; creator & ruler of universe
Where did he come from? In the beginning…God (Genesis 1:1)
What does he look like? Spirit…can't draw or make image (John 4:24)
What's he like? Relational (Personal & Trinity) and Revealed in Jesus (John14:8-10)
What characteristics? (Feedback ideas)
Some scriptures on the characteristics of God:
Genesis 1:1 God is creator (immanent, transcendent, sustainer)
Deuter: 6:4-5 God is One (monotheistic, 'I am who I am')
Psalm 90:2 God is everlasting (eternal, immortal)
Psalm 139:1-6 God is all knowing (omniscient)
Psalm 139:7-12 God is everywhere, all the time (omnipresent)
Psalm 115:3 God is all powerful (omnipotent)
Various God is holy, good, love, forgiving, just, faithful
Read: Isa 40:18-31
…How can our tiny brains ever understand God fully!?!
Which characteristic on white board do you most relate to when thinking of God?
…Distant, Loving, Boss, Uncaring, Friend, Kind, Powerful, Holy, Forgiving, Scary, Judge, Almighty, Unfair
How can we relate to God as 'Our Father' God?
…Testimony: Relating to God as Father, Friend and Almighty God
If God's a loving Father, what went wrong?
He created, we destroyed, He loved, we rejected
The story of the Prodigal son
Why should I believe in God? Evidence found in Conscience (corresponding fulfilment: hunger, thirst, tired, cold, need to worship) Evidence from Creation (Romans 1:20; Psalm 19:1-4) Evidence found in Christ (Immanuel: life, death, resurrection) (so 'Communion' with God) Evidence from Relationship / personal experience (accept, believe, confession, receive)
Ultimately: …'God is' (an affirmation of faith…childlike faith) 'God may be known' (affirmation of experience) The Bible wasn't written to prove 'God is', but so that he 'may be known'
Do you know him…how well…he wants to be close…amazing!…he's nearer than we think!