Basic Christianity 3 -- What Is A Real Christian?
Basic Christianity 3 -- What Is A Real Christian?
A sermon preached on 30th September, 2018, as part of our Basic Christianity. series.
1 John 1:5-2:6

Listen online Watch online Read a transcript
Reading is 1 John 1:5 to 2:6 ("God is Light" and "Christ our Helper") from NIV, with references to Romans 3:23 & 6:23, Luke 9:23, John 3:3 & 14:6, and James 2:26.
Phil Marsden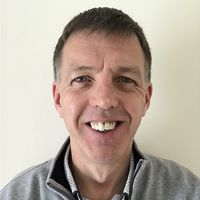 Phil received his call to full-time ministry as a child and since the age of 19 has served with Youth For Christ, the Baptist Missionary Society and several large churches before taking up his present role as Ministry Team Leader at Central Baptist Church. Phil's a visionary leader with a heart to share the good news of Jesus and to see the church grow.
WHAT IS A REAL CHRISTIAN?
A Christian is… (discuss if the following ideas are right or wrong?)
Someone who lives in a Christian country
Someone who is born into a Christian family
Someone who believes in God
Someone who goes to church regularly
Someone who has been baptised or confirmed
Someone who does a lot of good things for people
Someone who is a follower of Jesus
Someone who reads their Bible every day
Someone who prays to God regularly
Someone who obeys most of the commandments
A Christian is a follower of Jesus…someone in relationship with Christ…(Christian)
'Someone who accepts that Jesus took the punishment for things we do wrong, by dying on the cross and chooses to repent and dedicate their life to him and his service in response.'
What is sin? …doing wrong things …(think: of wrong things you've done!)
What does sin do? …separates us from God
Who has sinned? …all of us …Rom 3:23 "For all have sinned and fall short…"
What can we do? …nothing! …Rom 6:23 "For the wages of sin is death" (eternal separation) …but God can + has …"but the gift of God is eternal life in Christ Jesus"
How do I become a Christian…if I'm not one already?
ACCEPT that you are not perfect!
BELIEVE in Jesus and what he's done
CONFESS your sin, ask forgiveness and repent
RECEIVE forgiveness, relationship and eternal life!
'Repent': Turning around to follow Christ…
'Making Jesus Lord of your life'… (what does this mean?)
"If anyone would come after me, he must deny himself and take up his cross daily and follow me" (Lk 9:23)
What is a REAL Christian? …there's no such thing as a non-real one! (either are or aren't)
A Born-again Christian (John 3:3): "Truly I tell you, no-one can see the Kingdom of God unless they are born again"
A follower of Jesus (John 14:6): "I am the way and the truth and the life, no-one comes to the Father except through me"
A life that matches up! (1John 2:6): "This is how we know we are in him: Whoever claims to live in him must live as Jesus did"
James 2:26 "Faith without deeds is dead" Q) Faith or works? A) Faith that works!
The Christian message…
Man was made by God and lived in perfect relationship with him – Gen 1:27
Man decided to do things his own way, instead of God's and sinned – Gen 3:8
Man had now broken his friendship with God and sin had separated them – Rom 3:23
Man could not restore the relationship himself, as sin kept them apart – John 14:6
God decided to help man by sending his own son, Jesus, into the world – John 3:16
God is just and so still had to deal with the consequences of man's sin – Rom 6:23
God had sent Jesus to take this punishment upon himself on the cross – Rom 5:8
God raised Jesus again from the grave, showing the reality of eternal life – 1Cor 15:20
Man has to ACCEPT that he has turned away from God and sinned – 1 John 1:8
Man has to BELIEVE in his heart that Jesus died for him but is alive again – John 3:36
Man has to CONFESS his sin, ask God to forgive him for it and repent – 1 John 1:9
Man has to RECEIVE God's forgiveness and make him Lord of their life – Rom 10:9-13